'Overheard Baruch' aims to unite students through jokes and dates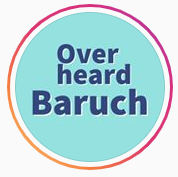 Sheik Floradewan
October 7, 2019
The Instagram page, @overheardbaruch, inspired by the popular account called "Overheard New York," aims to create a sense of community at Baruch College, which sometimes lacks this community due to being a commuter school.
The account not only posts about interesting conversations people overhear on campus, but now incorporates blind dates to help its users meet potential partners at Baruch.
In an email interview with The Ticker, the student running the account — who is a one-person team and chose to remain anonymous — explained that the purpose of the blind dates is to "help students meet offline so that they could bond and make their Baruch experience memorable."
The idea for the blind dates was generated by the community, the student explained.
"A lot of the posts on the page tended to float around dating, Tinder and finding a significant other in college. It felt right for me to introduce this. People have a need to relate and meet other people they can connect with," the account user said.
The rules to get a match are simple: students who are seeking to meet someone will send a brief, four-sentence intro on who they are, what they are looking for and the type of people they want to meet. "Overheard Baruch" then posts the submissions on its story.
Once someone is interested, they will swipe up and reply to the respective story. If there is a match, "Overheard Baruch" will create a chat for them to meet and the rest is up to the students.
Because there are over 100 blind-date submissions on average per day, "Overheard Baruch" decided that every Saturday at 9 p.m., profile submissions will open and the first 15 will be selected. On Sunday at 12 p.m., the account will send each applicants the responses they received, to which they can decide whether to talk and meet up.
The first success story follows first-year students Valentinea Chaux and Alex De La Rosa.
Chaux spoke to The Ticker about their first in-person encounter. "We met up literally the next day after matching. We just stood outside my art class getting to know each other, asking basic questions about music tastes, interests, etcetera," she said.
De La Rosa expressed a similar experience. "I think we clicked and we had fun spending time together, I feel like," he said. While they both said that they met up as friends, they agreed that there was a connection and encouraged other students who are interested to give the blind dates a try.
"It's super random and fun especially since you can't see the other person and honestly nowadays I feel like everything is so look-oriented, having this be anonymous is such a good idea because maybe the people that you otherwise wouldn't usually talk to, might be the ones that have the most in common with you," Chaux said.
This hype gathered a large following for the account, as more students wanted to connect. However, the student running the account explained that the page blew up when it posted a text image of an overheard conversation — one about how a student climbed to the 11th floor after walking to Baruch from Penn Station just to find out that classes were cancelled.
"The page took a life on its own the day the Baruch elevators stopped working. I gained like 300 followers that day because people were just connecting with the experience," the student explained. "It made me realize that I really had a good thing going on here. People love the page because they can relate to it. It is the complete Baruch experience 101."
When asked about their identity, the student said, "Overheard Baruch is like a secret society on campus. It is my voice, your voice, her voice, his voice. It is all of us." The student told The Ticker to "ask questions about the project. This is not about me and never will be."
As the page is run by one person alone, the student explained that "[they] do not consider having more people involved yet because [they] would like to remain anonymous for now."
"I consider that I am doing a good job alone so I do not see the need to add a co-owner yet," they said. However, they do plan on passing down the torch before they graduate.
Another page that garnered attention for its engagement with the Baruch community last semester, the @baruchmemesog account — who also remained anonymous — spoke to The Ticker about its thoughts on the "Overheard Baruch" page.
"I'm personally a big fan of the page," the meme account owner said. "The whole reason I started the meme page was to make some people laugh while promoting student involvement. The blind dates [were] something I never expected but is such a great idea."
"Their page is very active and engages the audience in a great way. I don't see this a competition at all. I'm all in on making school fun in whatever way we can," they added.
"Overheard Baruch" also had positive things to say about the Baruch memes page. "I think they paved the way for the funny Baruch culture. I remember sharing all the memes with my friends when they came out," the account owner for "Overheard Baruch" said. When asked if they would collaborate in the future, the "Overheard Baruch" owner said they would be glad to do so. "I don't know when and what it will be, but we will. We vibed well over dm," they said.