Fitz and the Tantrums go through All the Feels with usual bubbliness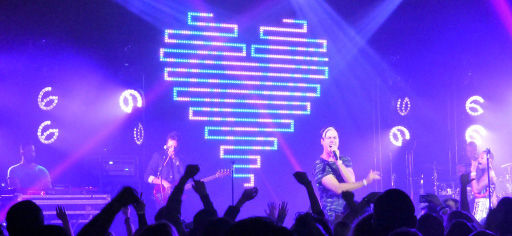 Diana Shishkina
September 30, 2019
Indie pop-rock group Fitz and the Tantrums released its fourth album, All the Feels, on Sept. 20.
This album comes nearly three years after the group's last album release, which was self-titled, and displays the continuous growth and harmonious blend of sounds the group became known for since its inception in 2008.
The 17-track album offers listeners what they've come to expect from the six-person band — a mixture of upbeat, soulful and catchy tunes covering topics ranging from falling in love, nostalgia, finding and accepting oneself and even reactions to the current political climate.
It's the kind of album one listens to if they're navigating the twists and turns of life but still want to remain positive through it all.
None of the songs sound too different from each other, but the complementary sounds offer easy listening to fans that don't want to think too hard about the meaning of each song's lyrics.
The titular track, which was released on June 28, highlights the cocktail of emotions and captures the essence of the whole album through simple verses.
Lyrics such as, "We go from the floor to the ceilin'/We fly, we fall/We get back up and try again" and "Wanna feel just a little/Just a little, a little bit more/A little bit more" demonstrate the feeling of wanting to experience more emotions and take more risks, and accepting that there will be ups and downs as a result of wanting that little bit more.
"I Need Help!" is one of the rawest songs on All the Feels, as it is a call for help and an admittance that someone who is trying to be strong feels overwhelmed and needs someone else to be there for them right now.
This song stands out among all of the songs on the album that call for personal empowerment, such as "Ain't Nobody But Me," "Don't Ever Let Em" and "Dark Days."
Two songs that bring about feelings of nostalgia are "Basement" and "Stop."
The first song is about wanting to get away from negative thoughts and feelings in an attempt to go back to the days when one would hang out and relax with their friends in someone's basement, not caring about anything.
Meanwhile, "Stop" touches upon how fast time seems to fly sometimes, and a longing to feel certain moments — both good and bad — again.
There is a common theme pictured in the song of feeling like one is running through life too quickly without knowing where they are going and that the best moments seem to be passing them too fast.
There are several songs that talk about love or romance in some hopeful aspect.
"OCD" talks about wanting a special someone to come over and dance, while "SuperMagik" discusses what the feeling of being under one's spell is like
A surprisingly nuanced song on the album is "Kiss the Sky."
It's a commentary on modern gun culture and evokes the feelings people who own a gun tend to have.
Commenting on the song in a Billboard article, front man Michael Fitzpatrick says, "If a firearm had a voice, what would it say?" when thinking about how to approach the song.
This creative theme is reflected in lyrics such as "Was born to take your innocence/A rebel, I'm the influence/Addicted to the thrill of it."
In total, All the Feels does not show Fitz and the Tantrums taking major risks with their sound.
However, the band members know what works best for them and once again offer a melodic, cathartic listening experience to everyone who needs a little pick-me-up or a pep talk from their music.