Seven years after Wylie Dufresne's molecular gastronomy venture "wd~50" closed its doors, the unorthodox and talented chef launched his latest culinary project, Stretch Pizza, on March 17.
Founded alongside fellow chef and owner of the renowned Breads Bakery in Union Square Gadi Peleg, Dufresne's goal of cultivating a New York-style pizza shop has seen considerable patronage in its six months of operation.
But customer satisfaction fell short of the expectations associated with the name and reputation of its founders, as indicated by reviews from The New York Times and The New York Post.
The Ticker sat down with Stretch Pizza's general manager, Tyler Folkes, to discuss the restaurant's daily operations, challenges, customers and profits.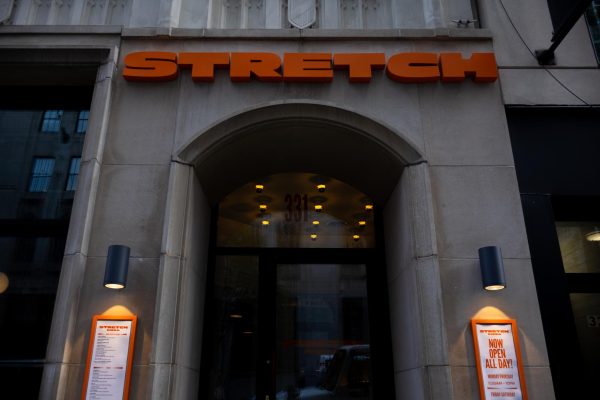 Though the Stretch Pizza location at 331 Park Ave officially opened over six months ago, the concept was first tested by Dufresne in 2021 as a pop-up, serving pies in NYC for takeout only. This period, amid COVID-19 uncertainty, helped narrow Dufresne's concept of what Stretch Pizza would look like in a few years' time.
"From a business perspective, pizza is very easy to make and cost-effective toward a good, quality product," said Folkes. Fiscal prudence is imperative to all restaurant owners, with cost-effective operations especially important in a business' first year.
But Stretch Pizza has not yet been able to achieve profitability due to vast and expansive start-up costs.
Albeit Dufresne's successful ventures in previous decades, Stretch Pizza received support from external investors, each with at least 30 years of experience in hospitality.
"It's so much easier to do your job when the ownership team understands how restaurants work… [rather than] a team that runs a restaurant from a perspective of a spreadsheet," Folkes said.
These investors, alongside families and friends of the business, were the only ones permitted inside the restaurant during its opening week, intricately planning how operations would begin once the rest of New York would sit at its tables.
Despite careful planning, Stretch Pizza had challenges early on with staffing, reservation restrictions and eventually an expansion to lunch service in addition to dinner hours. Part of these difficulties stemmed from the pizza-making process that Stretch Pizza prides itself in, specifically its pizza dough, which according to Folkes requires 48 hours of rest before serving.
While the extended time frame may complicate the lives of the chefs, its intention was to make the final product that much more enjoyable.
"The 'scienciness' of the product is where the wd~50 influence comes in, but we're not trying to ruin people's memories of pizza," Folkes added. Unlike wd~50, the restaurant was intended to be a casual hub where people can visit multiple times a month instead of just a couple times a year for a fancy outing.
"From a business perspective, pizza is very easy to make and cost-effective toward a good quality product," said Folkes. Cost-effectiveness, an aspect imperative to all restaurant owners, is especially important in a business' first year. Yet Stretch Pizza has been unable to achieve profitability just yet, as start-up costs were vast and expansive.
What has helped Stretch Pizza continue operations despite not achieving profitability yet is its owner's capital, name and reputation. The magnitude of Dufresne's name was substantial enough that Stretch Pizza has often been forced to restrict its books due to the sheer number of customers seeking to get their pizza fix.
The restaurant started with a limit of 80 reservations per night, stretching to 120, 140 and eventually up to 180 customers a night. The numbers are even more impressive considering Stretch Pizza was originally only open for roughly four to five hours daily, until soft-launching lunch hours as well.
Though Wylie Dufresne's name naturally carries high expectations, the restaurant purposefully strays away from anything fancy or traditionally Italian — even the wines. Rather, its entire concept is to cultivate a quality, sizeable, greasy yet good-looking, old-school New York pie.