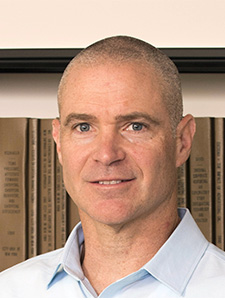 Baruch College's Zicklin School of Business launched the Department of Entrepreneurship and Innovation on July 1, representing an intentional shift from simply teaching students how to start a business to helping them develop an entrepreneurial mindset.
Scott Newbert was named the new department chair and currently serves as the academic director for the Lawrence N. Field Center for Entrepreneurship. He hopes to build a close connection between the two as they collaborate to offer resources to students.
In an interview with The Ticker, Newbert said the entrepreneurship mindset is all about seeing opportunities where others might see challenges, confusion or chaos.
"It's more than just starting businesses," Newbert said. "What we are trying to do is get students to be creative problem solvers no matter what they go on to do. Whether you are a finance major, biology or public policy major, we want you to be able to bring a creative mindset to what it is you do."
One new course offered by the department titled "Special Topics in Entrepreneurship" involves a trip to Panama over spring break, where students will engage in consulting projects for rural entrepreneurs.
Newbert recommended prospective students look into the aptly named "Developing an Entrepreneurial Mindset" course if they want to learn how to see the business world through a broader perspective and through other people's eyes through a series of discussion, reading content and class exercises.
Additionally, there is a rising effort to bring students from all fields into the business world, especially from the arts and sciences. Creativity and innovation are important to entrepreneurship, and hosting events like the mural design competition in spring 2023 motivates students with an assortment of interests to get involved.
"We try to reach as many students as we can, in as many ways as we can to offer them as many services as we can," he said.
"Entrepreneurs' ideas are so varied, so we want to make sure we have the opportunity to give them all the resources they need to be successful."
For students interested in social media and technology, "Designing for Innovation" teaches students about app development, 3-D printing, website building and more.
Students can also learn how to use the latest technologies, like artificial intelligence tools, in their business models in "Technology and Innovation."
The entrepreneurship major was launched in fall 2020 and was heavily centered around the entrepreneurship mindset. There are also two minors, entrepreneurship and social innovation, where students get the opportunity to explore solutions to social problems.
Newbert hopes that these changes will add to the enrollment in the major and at Baruch College. "The reason for doing this is to make Baruch a center for entrepreneurship education at CUNY and within the city."
The new department is currently exploring partnerships with other CUNY schools — community colleges especially — with students pursuing associate's degrees in entrepreneurship and may wish to get a bachelor's.
Additionally, the department is exploring the possibility of having the entrepreneurship capstone class host an end-of-semester event at the field center.