On a sweltering Sunday morning in June a mass of demonstrators spilled onto East 26th Street at the top of Madison Square Park clad in flowing rainbow outer layers.
The assembly was the leading June 25 procession of the 2023 NYC Pride March.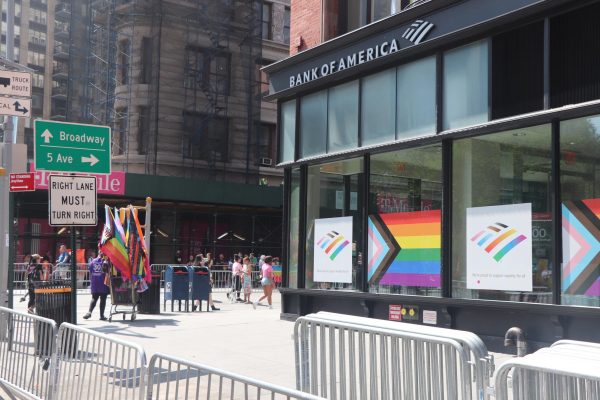 Heritage of Pride, also known as NYC Pride, arranged the event. It was founded in 1984 after the Christopher Street Liberation Day Committee disbanded.
"Many of us are feeling like we need to reclaim everything about the spirit that was Stonewall and the marches that happened afterwards," organizer Paul Nocera from the Queer Liberation March told NBC News in 2019. "No corporate floats. No police in a march. No politicians — at least no politicians holding signs, saying, 'vote for me vote for me.' If I see one more rainbow on something that's not directly connected to the struggles that we're living in, I think I'm gonna be sick."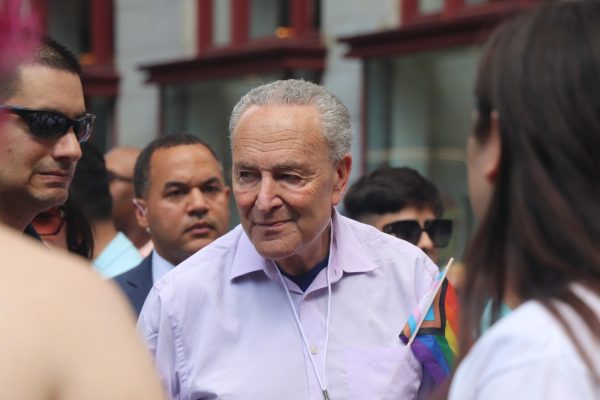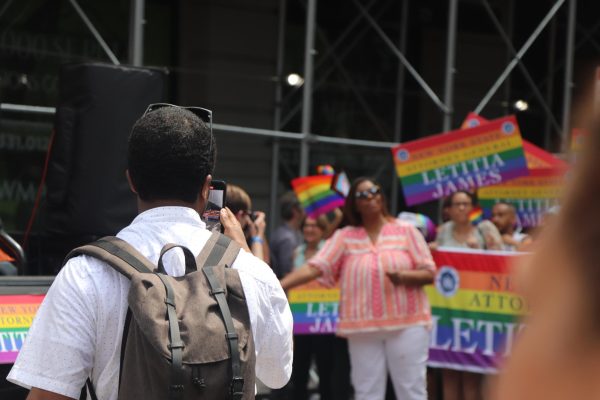 The sentiment of transformation from a grassroots protest to an institutionalized parade has also been popularized by groups like the Reclaim Pride Coalition. These groups are critical of marches like the ones organized by NYC Pride.
The mainstream, televised marches are typically supported by a structure resembling a mutual fund, diversified by assets in the form of corporate involvement rather than relying on bottom-up efforts.
NYC Pride is a volunteer-led, nonprofit organization. Its website displays a tiered list of corporate partners from platinum, gold, silver and bronze.
Speaking with The Ticker, NYC Pride Associate Director of Partnerships and External Relations Zoe Gorringe described the list as the manifestation of agreements made between the organization and corporate partners on brand engagement at events just as much as simple donations.
"That's a huge part of the conversation, but as you get more deeply engaged, how you're engaged with the community becomes more detrimental," she said. "There's never going to be a gold or platinum sponsor that we haven't already quadruple vetted that are actually invested. As you get more deeply engaged with us, we're gonna get more deeply engaged with what you are doing on your end."
The organization has gone to great lengths to verify the intentionality of its partners.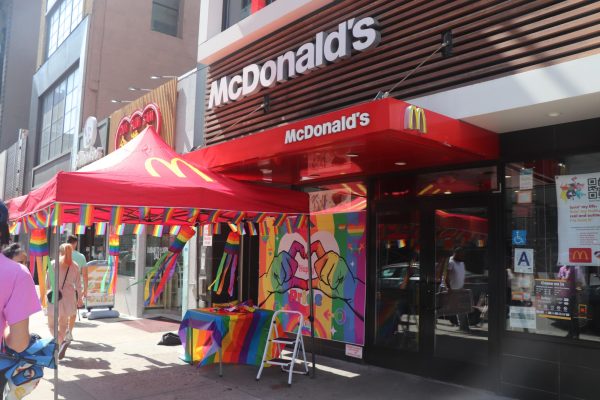 NYC Pride assesses its partners annually. It will affirm next year's partnerships the week of July 24, of which 70% usually recommit, according to its website.
In March 2022, when the Florida Senate passed the controversial "Don't Say Gay" bill, a tip led NYC Pride to find two of its longstanding corporate partners who had donated to lobbyists and politicians that helped get the bill passed.
Gorringe recalled the conversations she had with one.
"We said, 'we understand that your company is very large and we're talking to the queer folks in the company, but we will not have you represented at our events this season,'" she said.
"But that was a huge hit to us."
One corporation, consistently renewed for over two decades, brought not only financial support for hosting free events but also provided valuable in-kind donations of goods that significantly enhanced the events' success.
Gorringe said that, if the companies were to turn themselves around, NYC Pride could potentially re-engage and help them get better.
NYC Pride has few full-time employees — the rest are temporarily contracted or volunteer-based — to ensure funds go toward programs and events instead of administrators.
The administrators evaluate sponsors' corporate policies using the Human Rights Campaign's Corporate Equality Index.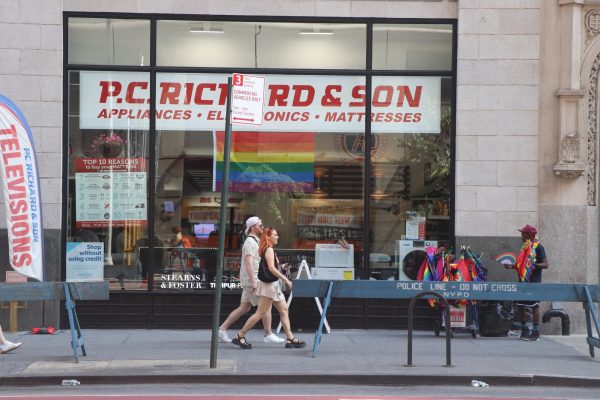 Gorringe described their work as a constant balancing act between maintaining adequate revenue and holding corporations accountable.
"People want to see it as rainbow washing, but they don't understand," she said. "The iceberg tip is just above the water, and you don't understand the work happening underneath."
Joseph Daigle from one of NYC Pride's community partners, The Trevor Project, spoke with The Ticker about the significance of intentionality. The Trevor Project is a leading mental health organization and intervention service focused  on suicide prevention efforts among LGBTQ+ youth.
"Corporations need to be intentional about their partnerships with LGBT orgs in the community," he said. "You need to withstand backlash."
Anheuser-Busch InBev SA/NV, the parent company for Bud Light, sent transgender influencer Dylan Mulvaney a set of commemorative Bud Lights beers with her photo in early April. Calls for a boycott on social media saw a massive dip in sales for the company, dropping 28% compared to the same period last year for the week ending June 24, CBS reported.
Corp. is a platinum sponsor for NYC Pride and was another target of a boycott for its pride-themed clothing displays it has since removed.
Daigle is a volunteer at The Trevor Project and CEO of Mallard Financial Partners Inc., a financial management firm based out of Newark, Delaware.
"Social movements come in waves," he said. "Some companies can predict them, and some companies are riding the waves after the fact."
There are other companies that, unlike the ones trying to catch that wave, continuously support the LGBTQ+ community.
"Abercrombie & Fitch, Macy's are great," Daigle said. "They've just been there since the beginning."
Patrick Gonzalez, a demonstrator at this year's pride month, said the fickleness of some corporate pride demonsrations doesn't go unnoticed.
"I love seeing companies embracing the pride movement," Gonzalez said. "But come July 1st… it's usually always all gone."