Field Center unveils winning out-of-the-box design for annual mural competition
The Lawrence N. Field Center for Entrepreneurship revealed Baruch College student Ethan Canter's art as the winner of its second annual "Essence of Entrepreneurship" mural design competition on May 9.
Part of Baruch's "Creative Inquiry Week" celebration, the event opened with a gallery open to the college's community and featuring the six designs that students and Field Center staff voted on.
Refreshments included fruit punch, cheese cubes and cookies baked by entrepreneurship major Naomi James. Tiffany Wu and Calvin Zhang, seniors who created the previous year's winning design, came to take home their mural and watch the reveal of the new winning design.
Submissions for this year's competition opened on Jan. 30 and closed on March 13. Although the entries this time around were fewer than the previous year, Field Center Executive Director Marlene Leekang said the high quality of each design made it hard to choose only one.
"The students continue to impress us and amaze us with what their hidden talents are," Leekang told The Ticker. "I don't think we would have known that they have these capabilities if we didn't have an environment or some sort of avenue for them to display."
Some of the designs included one with a lightbulb shining above notable entrepreneurs like Apple Inc. co-Founder Steve Jobs and another with eight people who are diverse in occupation and appearance.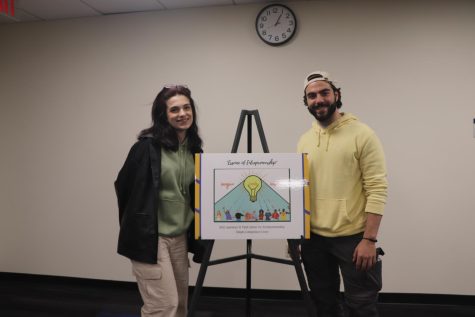 Baruch senior Andrew Lu's piece features eight hands against a dark blue background surrounding a yellow light bulb with the message "ENTREPRENEURSHIP POSSIBILITIES" around it.
"Originally, I did want to come up with a singular interpretation, but since it's art, it's supposed to be subjective," Lu told The Ticker. "I want people to make their own opinions on what this means, and I actually got some things that I didn't think about as an artist."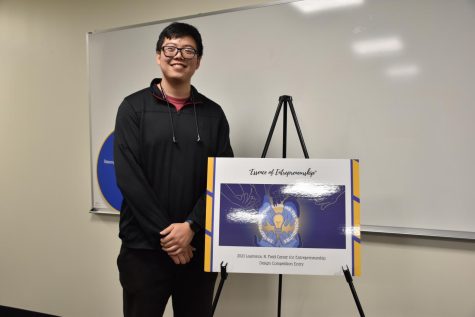 The winning design is a black-and-white hand-drawn illustration in which a box explodes with a variety of contents — such as springs, stairs, bowling pins, a light bulb, a clock, an abacus, a bird and a hand pointing upward — spread across the campus. In the center, between the box and an outline of a city skyline, is the phrase "THINK OUTSIDE THE BOX."
A junior at Baruch College, Canter said he always considered himself an entrepreneur, which is why he originally intended to major in entrepreneurship.
Growing up doing art projects with his artist mother, he loved doodling in school but took it seriously during the COVID-19 pandemic. Canter started sharing his work on his Instagram account, @kromen_ya. He described his art style as "very abstract" and his idea for the mural as "a bunch of randomness all over."
"Entrepreneurship isn't a one-track thing; it's so immersive and stuff," Canter told The Ticker. "I was trying to get across the randomness and the ups and downs of entrepreneurship. Also, there's like roller coaster tracks that I fit in all around the picture because I thought a roller coaster was also a good expression for the life of an entrepreneur: there's so many ups and downs."
On the feedback from the Field Center's staff, Leekang said that Canter "had a lot of different concepts within his full design," adding that "every time you look at it, there was something new to your eye and just pulled in the viewer."
When he found out he did not meet the requirements to get into the Larry Zicklin School of Business, Canter decided to major in corporate communication. Not only had he met some of the requirements already, but the major also covered other subjects he was interested in learning.
Still looking for ways to be entrepreneurial on campus, he visited the Field Center to find out what it had to offer him and learned about the mural competition. For Canter, his victory felt "validating."
"I've never been that excited; I couldn't even explain it," Canter said. "It was the craziest feeling. It didn't feel real, so it was just so validating having my art selected like that, in a voting process, because I always knew I had people that enjoyed my art and people that liked it, but I always thought it was a specific niche of people who really resonated with. To have it on a bigger scale like that and winning in a competition, that was just such an honor."
Meola Shaka, a Baruch freshman majoring in psychology, learned about the competition through Field Center Program Coordinator Gary Smalls and The Ticker. She said she learned about entrepreneurship through the event.
"I'm not like an entrepreneur and my major doesn't have much to do with that either," Shaka told The Ticker. "But I think it taught me that all these entrepreneurs that we know today that are so famous or look up to, they all started from scratch, nothing. They all had this dream in mind, and they made it work, even though they didn't have the resources." 
For students considering participating in next year's competition, Canter advises them to "be more willing and not afraid to show off their art," adding that he thinks "people put up walls around their own limitations and what they're able to do with their own abilities."
"You can do anything," Canter said. "I guess anything is possible. Always for it. I mean, that's the truth of entrepreneurship."
Editor's Note: Ethan Canter is a contributing writer and graphics artist for The Ticker.