Baruch hosts CUNY CLASH, showcases diverse spread of student startups and solutions
CUNY Students gathered to pitch their business ideas at the final round of CUNY Startups' second annual "CLASH" event at Baruch College's Lawrence N. Field Center for Entrepreneurship on May 5.
Students throughout the CUNY system gave their entrepreneurial solutions to a wide variety of issues for a chance to win a prize of $10,000.
CUNY Startups is headquartered at Baruch and has a variety of programs and events to get students involved in entrepreneurship through developing business plans and launching startups.
The first CLASH was held on April 29, 2022. After discontinuing the annual CUNY Hackathon, the program's board of directors sought to host an entrepreneurial competition with a similar system-wide reach. 
"This year's competitors are all really [about] social impact," Adia Johnson, the associate director of CUNY Startups, told The Ticker. "That's just what we're hoping for — a diverse and wide ranging set of interests."
The schools represented in the competition included Hunter College, Bronx Community College, the College of Staten Island, the Borough of Manhattan Community College and Brooklyn College, Lehman College and Queens College. 
The Field Center footed the bill for the rest of CUNY CLASH's resources, including the space and technology necessary to run the event, as well as mentorship, judges and facilitators through volunteers.
This year's top prize was awarded to Baruch senior Omar Alrifai for his "Urban Oasis" — a plan to build a moss wall in the Clivner=Field Plaza to sequester carbon dioxide and address polluted air, which shortens the lifespan of the average New Yorker by up to a year.
"Moss is a commando specialist in climate change combat," Alrifai told The Ticker. "One square foot of moss can capture as much CO2 and pollutants as a young tree, and does so at a fraction of the space."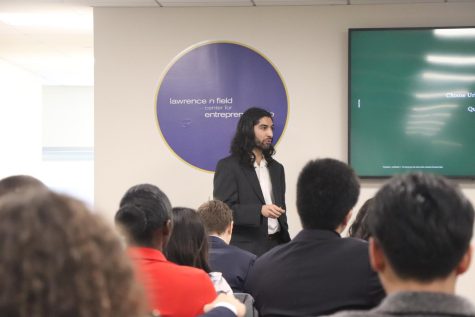 Provided by event sponsor Amazon.com Inc., the sum fell short of last year's $35,000 grand prize. But the contestants' potential allocation of the funds, stated during each detailed presentation, specified it was just enough to seed their ideas' execution. 
Second place granted a $4,000 prize, third place got $2,000 and each runner-up received $300 each.
Other contestants also leveraged the push for sustainability. Baruch's Lily Lo presented Mugu Vintage, an e-commerce company specializing in vintage clothing and accessories. Lo won the Blackstone LaunchPad Ideas Competition in the consumer goods category and has generated $36,000 in profit since its launch.
Jack Kasindorf, a student at Baruch, received the second place prize for "Djembe Joy," which would operate as a nonprofit-to-nonprofit music outreach program for children with disabilities.
"This is a djembe," Kasindorf said, holding the drum. "A very special West African percussion instrument, which when translated to English means 'everybody gathered together in peace.'"
He said that the business is "going to gather together in peace and incorporate the teachings of music therapy and positive psychology into communities that need it."
The organization would involve programs funded by grants and donations where volunteers enter learning centers and host music events.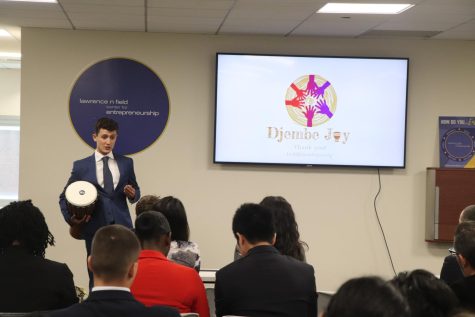 Dreandra Cordero, a U.S. Army veteran and student from BMCC, won third place for Give Us A Purpose. GUAP is a nonprofit organization that provides coaching, mentorship, resume and life skills to youth and young parents in low-income communities.
"We want to lead them to a life of success, and avoid living a life in the judicial system," Cordero said. "We're teaching them how to drive a car, or fix a car or how to put up drywall on the ceiling."
She said the results of a survey she conducted in her community found that many believe youth are led to gang violence and drugs due to a lack of alternatives and life skills. 
"When my brother got locked up, that caused me to push forward and realize there was a lack of help in our community and our youth," Cordero said. 
According to a survey she conducted, 33% of respondents felt that children were getting involved in gun violence and drugs due to a lack of knowledge.
With numerous computer science majors involved, some ideas tackled issues through science and technological applications.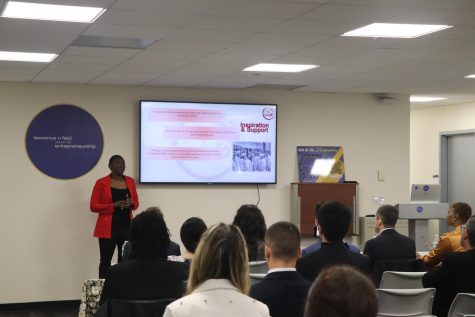 Queens College's Rohan Ramnarain built PharmaLoop, a delivery app catering especially to independent pharmacies. Ankita KC, also from Queens College, built an app called Hoppity, which uses augmented reality to allow users to play hopscotch using their phone camera. 
Most of their funding would go to user interface and user experience development, or "UI/UX," as well as server maintenance. 
"Our focus is on propelling students' futures," CUNY Startups Executive Director Remy Arteaga said. "It can be a venture outcome … but for us, it's also a career outcome. If we can be an inflection point in your future and what you do long term then that's a win for us."