Convention-style game day hosted by ESA and JAA in new student lounge
Baruch College's Esports Association and Japanese Anime Asylum clubs co-hosted   last 'Days of Play' event BAACON in the newly accessible student lounge, formerly the bookstore, on May 4.
BAACON, the Baruch Anime Asylum Convention, was a three-hour long party that featured two Nintendo Switch setups, a first-gen Oculus Rift virtual reality headset, board games, card games, giveaways and prizes.
About 120 students RSVP'd beforehand, with at least 35 students waitlisted.
The raffle prizes included LED strip lights, a Fujifilm Instax camera kit, a minifridge, a Blue Yeti microphone and a Nintendo Switch Lite. Attendees took turns playing "Mario Kart 8 Deluxe," ate food from Dave's Hot Chicken, and cosplayed as anime characters , exuding an exciting atmosphere of inclusivity and passion.
"I like the family-feeling community," ESA President Zain Ali said. "Everyone's nice, everyone's accepting."
Some students gathered around a station where people took turns playing the popular VR game "Beat Saber." Many tried the VR game for the first time.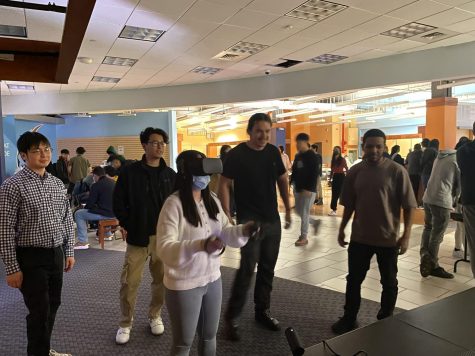 Ali clarified the Oculus headset was his.
"Yeah the VR headset is mine, but all the monitors and consoles belong to the club with our equipment budget," Ali said. He wore a monogrammed ESA hoodie with "ZAIN" printed in a large font on the back.
Even more costumed students dotted the room — there was Chun Li from "Street Fighter" and an armored equipped with a lightsaber. Meanwhile, three scouts from "Attack on Titan" were on standby.
Japanese Anime Asylum President Matthew Bassi, who was dressed as Luffy from "One Piece," spoke on the club's inclusive attitude.
"Anime is like an umbrella we can all get under," Bassi said, who held the position since online learning was still in effect. He explained that anime is the presupposed common denominator connecting club members during its weekly meetings, even when it isn't.
"You like anime?" he asked. "Doesn't even matter. Just show up."
The ESA also meets weekly, hosting events such as rock-paper-scissors and "Super Smash Bros." tournaments.
"This is our biggest event," ESA event committee member Sebastian Suero said. "We basically just asked [the Baruch Office of Student Life] if the room was available, and they said it was and that was that."
Since the old Baruch bookstore was repurposed into a recreational space, other clubs have used the space. The Baruch Ecuadorian club and Mexiculture club just held a Cinco de Mayo event with the Baruch Undergraduate Student Government on May 3 in the newstudent lounge.
One would have a hard time missing the similarities of cheerfulness between the "Days of Play" event and the mariachi music that trumpeted throughout the William and Anita Newman Vertical Campus the day before.
"The [multipurpose room] is impossible to get, so we're glad we're here," Suero said.
While some attendees were glued to monitors for most of the event's duration, others cycled through the stations and grouped up together with friends.
Students came and went throughout the event, but the student lounge remained at or near its occupancy limit for most of the time.