Icelandic yogurt 'siggi's' founder shares the scoop at Field Center
The Lawrence N. Field Center for Entrepreneurship welcomed Siggi Hilmarsson to share his journey from producing homemade yogurt in his kitchen to developing a multimillion-dollar venture.
Titled "From Hobby to Founder! A Brief Story About Starting a Yogurt Company," the April 26 installment of the center's "Entrepreneurial Lunch & Learn" webinar series was described as a "treat" by Field Center Executive Director Marlene Leekang, who added that "it's very rare we do this in person."
Students at the event listened to and networked with Hilmarsson, who founded the low-sugar, high-protein yogurt brand "siggi's dairy."
The entrepreneur was joined by his parents, who were visiting from Iceland, and Baruch College Fund President Helen Mills, who introduced Hilmarsson to the audience and herself as the landlord of his first commercial office.
"Over all those many years of knowing Siggi, if he had been my son, I would have been proud of him, which is why I'm so happy his parents are here," Mills said, adding that he is "very authentic," "very devoted" and "a very good employer."
Born in Iceland, Hilmarsson didn't have a background in food, but he ate Icelandic yogurt or "skyr." He described it as "not very sweet," adding that the "old school" Icelandic food he grew up with "was pretty simple."
Hilmarsson moved to New York in 2002 to study at Columbia Business School. New to the city, Hilmarsson found American yogurt "disgusting" during this era preceding the fat-free Greek yogurt trend's boom in U.S. supermarkets. He was "floored" after reading the ingredient list, realizing that the amount of sugar in a cup of yogurt was greater than in a bottle of cola.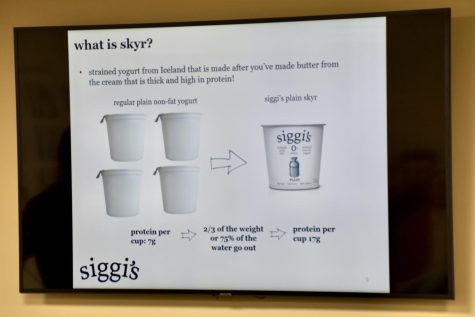 "People just say, 'Oh, I'm having yogurt, I'm doing something good for my body,'" Hilmarsson said. "They would never say that about ice cream, right?"
After obtaining his master's degree in 2004, he found a job at Deloitte. While at risk of being fired for being "a horrible consultant," Hilmarsson considered launching his own yogurt business using a skyr recipe that his mother sent.
He said the first batch of yogurt he made in his kitchen in 2004 "tasted disgusting." His roommates would smell the yogurt and tell him "don't quit your day job."
But his subsequent batches tasted better.
As the quality of his yogurt improved, his investment in his hobby became more intense. Hilmarsson rented a dairy plant in SUNY Morrisville College with encouragement from a former professor. He later received positive feedback from Murray's Cheese, an artisanal cheese retailer based in Greenwich Village, and was asked to make more yogurt for the shop to sell, becoming the brand's de facto first investor.
"I realized I have a product I love," Hilmarsson said. "I have a product I'm really proud of. I can carry my head high even if it fails. For me, that was a very important realization that it wasn't something I was doing — like, yes, I wanted financial independence; I wanted to make money; I wanted to be successful — but it was also important for me that in the case of failure, I could stand tall and say, 'Hey, yeah, this was a really worthwhile endeavor.'"
Hilmarsson quit his day job, founded his own dairy plant in upstate New York and launched his company in 2006 with his former professor as a partner. He sold his yogurt and interacted with a growing consumer base at a farmer's market in the Nolita neighborhood of Manhattan.
After tasting the yogurt Hilmarsson provided at an event in the Hamptons, a buyer for Whole Foods was persuaded to help the brand launch nationally in 2008. In time, Hilmarsson said the brand "started growing like gangbusters," expanding its presence in more mainstream food retailers and eventually being bought for over $150 million in 2018 by the French company Lactalis, the world's largest dairy products corporation.
Hilmarsson recalled that big consumer brands "were just like, 'This is a tiny business, this is never going to work,'" when they viewed his yogurt brand. "That's because they optimize for research and what people want now," he added. "I never really viewed myself as that kind of marketer. I was telling people what to eat because there's a reason for it. There's a reason to eat healthier."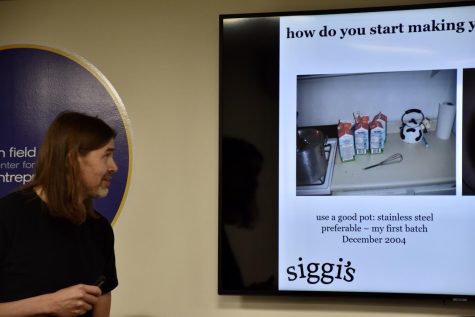 Reflecting on why he kept perfecting his first batches of yogurt, Hilmarsson acknowledged that taking a business off the ground can be frustrating, especially as a student without much money. "It's best to just start while you're used to being broke," Hilmarsson said.
"You're gonna learn a thing or two, but you're gonna make so many mistakes anyway," he said, adding that "time is more important than what you learn."