Students enjoy festivities at USG and WBMB Spring Fling events
Baruch College students celebrated the spring semester with two "Spring Fling" events on April 27 – first a block-party style event hosted by the Undergraduate Student Government in the Clivner=Field Plaza and then an evening concert hosted by WBMB radio.
The USG event was from 12 p.m. to 3 p.m.
There was a speaker set up, and music filled the plaza.
Students were able to choose from a selection of tacos, kati rolls, pasta and barbecue.
For dessert and refreshments, there was mango lassi, Vietnamese iced coffee, taiyaki ice cream, Dippin' Dots frozen treats and fried Oreos.
Students jumped in ball pits and battled it out in "Guitar Hero," "StepMania," basketball shooting and carnival games.
Baruch President S. David Wu also attended the event, and students stopped him to take photos.
There was a large turnout for the event, and lines for food often lasted over 40 minutes.
The results of the USG election were announced at 1 p.m. Current USG leaders congratulated the newly-elected members.
WBMB's Spring Fling took place in the Baruch Arc Arena from 5 p.m. to 9:30 p.m.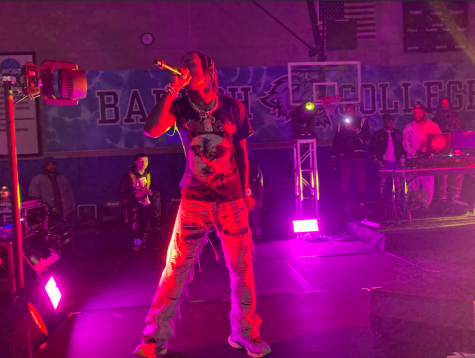 Rich the Kid headlined the concert. DJ Tyler Marin, DJ Jason, Adam Neri, Supreme Carl, Xaveria and Spin City Chris all performed.
Lights illuminated the performers in variations of blue and purple hues.
Students jumped along to the music and formed dance circles.
Rich the Kid descended into the crowd, sang alongside students and posed for selfies.