Homecoming Week Fall 2019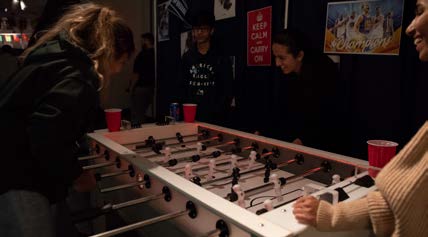 ---
Homecoming 2019 Spirit week included "Culture Day" on Monday where students showed off their cultural attire to win a $25 Buffalo Wild Wings gift card; "Baruch Pride Day" on Tuesday where students showed off their school spirit in their favorite Baruch attire; "Tie-Dye Day" on Wednesday where students were able to create tie-dye shirts and bandanas and "Jersey Day" where students wore their favorite jersey.
Other events leading up to Homecoming Day such as the "Drop the Mic" event was cancelled due to the elevators being offline at NVC on Tuesday, and the "Clubroom Door Judging Contest" was postponed to the following day on Wednesday.
As its first event of Homecoming Day, USG held "Ready, Set, Rally!" to celebrate school spirit on Sept. 19 in the Main Gym. The event occurred during club hours where eight clubs competed for co-sponsorship money in a series of games and relay races. The crowd cheered for their respective club members as they played on the court in competitive games, such as flag football and tug of war. As spectators cheered, USG members threw Baruch hats, fanny packs, shirts and drawstring bags into the crowd, which they eagerly tried to catch. Halfway through the event, the Baruch dance team graced the stage ‑‑ or court ‑‑ with their upbeat and modern moves that thoroughly entertained the crowd.
"It's important to build school spirit and make people feel welcome at Baruch, especially during the first month of school so we can keep them energized," USG Vice President of Academic Affairs Briana Staten said when asked about the importance of holding these kinds of events at Baruch.
Homecoming Day's second event was "Flic and Dip," a short-and-sweet type of event where students were able to grab some Dippin' Dots and snap a quick photo with Bernie the Bearcat in front of a Baruch College backdrop.
"My original intention for Homecoming this year, or at least the theme I was going for, was a sports game-related thing. With the concession stand, I thought of trying to do like a sports snack concession stand," said USG Vice President of Campus Affairs Robert da Rita.
"So, that inspiration came to me based on the theme I wanted to do and gave me that idea to do Dippin' Dots and maybe a chocolate fountain and some candies. I feel like that's something you find at a sports game, so trying to stick with the theme of the sports game and making a concession stand was what I thought of for that," he continued. Da Rita said that he believes the event was a success, and said that they had actually ran out of food before the event was even over because he had expected a lower turnout and had therefore bought less refreshments.
Finally Homecoming Day ended with a Dave and Buster's style game night. There were various arcade games such Pac-Man battle royale, air hockey, foosball, giant Jenga, giant Connect Four, basketball pop a shot, skee ball and darts.
"The theme that I was going for is working — people have been coming up to me and telling me that this reminds them of Dave and Buster's so I feel accomplished," said da Rita.
There were also dance performances by Fusion and two solo performances by Andres Aguirre and Joshua Castillo in which they both sang two original songs. The night ended with an open dance floor as energetic students came together in a mosh pit.