Climate Change Strike 2019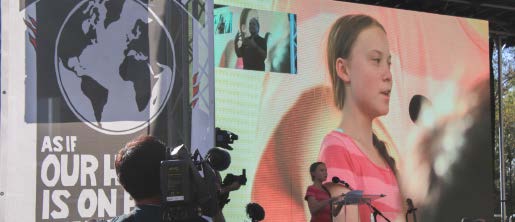 The march ended in Battery Park, followed by live performances and speeches. Jaden and Willow Smith performed in the park. Spokespeople included Artemisa Xakriabá, Dr. Ayana Elizabeth Johnson, Vic Barrett, Xiuhtezcatl Martinez, Julio López Varona, Grace Goldstein, Rebeca Sabnam, Isabella Fallahi, Kevin Patel, Artemisa Xakriabá, Marisol Rivera, Varshini Prakash, Judy Sheridan Gonzalez and Greta Thunberg.
Sixteen-year-old Greta Thunberg was the most popular speaker of the climate strike.
Thunberg became the face of the global climate movement after she started striking in front of the Swedish Parliament. Thunberg came to New York by crossing the Atlantic Ocean with a boat in the span of about two weeks, after her efforts to save the earth were recognized worldwide. She had recently testified to Congress over climate change, calling out politicians for not taking action. Thunberg was also nominated for the Nobel Peace Prize. Thunberg started her speech with huge numbers of people all around the world striking for the environment.
"This is an emergency. Our house is on fire," she said, before calling politicians and all citizens to action. "People in power, their beautiful words are the same, the number of politicians and celebrities who want to take selfies with us are the same. The empty promises are the same, and inaction is the same," she continued.
The crowd cheered after every bold comment she had made. Thunberg highlighted that the world's priority should be to solve this crisis by stating, "We will not just stand aside and watch. We are united behind science, and we will do everything in our power to stop this crisis from getting worse. Even if that means skipping school or work, because this is more important. Why should we study for a future that is being taken away from us?" Before concluding her speech, Thunberg mentioned the United Nations Climate Action Summit taking place on Sept. 23. "They have a chance to prove that they too, are united," she said, about the politicians going to the upcoming summit.
---