K-pop boy band NCT DREAM says 'Hello Future' after first-ever US tour
NCT DREAM left its mark in the United States with its first U.S. headlining tour nearly seven years after the band's debut.
The South Korean boy band debuted in 2016 with their single "Chewing Gum" — which hit No. 2 on Billboard's world digital song sales cart — and has been a global sensation since. Their latest mini album "Candy" sold nearly 1.6 million copies in just the first week.
The group members MARK, RENJUN, JENO, HAECHAN, JAEMIN, CHENLE and JISUNG joined a virtual roundtable with student journalists to discuss the "THE DREAM SHOW2: In A DREAM" Tour.
NCT DREAM's only performance in America, prior to this tour, was at KCON in August 2022. Despite this, the members believe that the American tour did not differ much in terms of performances from previous concerts held in Asia.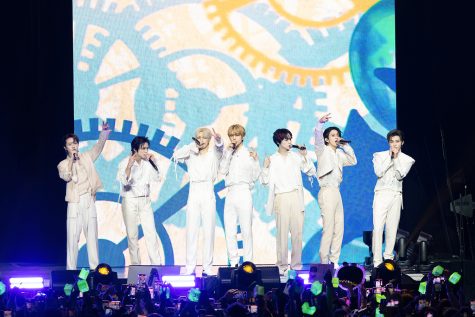 "I would have to say more so than having differences in our stages, it's really just all of the experiences that we were able to gain from all of the past tours and cities that we've gone to and performed at," JENO said. "I think through that we are able to try harder and just be able to freely express ourselves even more."
RENJUN added that he believes each city "has its own charm and atmosphere," making every show, regardless of the location, special as they can enjoy unique and meaningful moments with their fans.
MARK, the group's leader, explained that this tour was just the beginning for NCT DREAM as they make their rounds across the globe for the first time.
"We've never done this before even though it's been around eight years since we've debuted," MARK said. "We really had prepared very strong, performance wise, and just our mindset wise to make sure that we can show the world our capabilities and what we are striving for."
The youngest member JISUNG reminisced on his teenage years and thought about what advice he'd give himself. He was only 14 years old when he was thrown into the limelight.
"I would have to say that I'd like to tell myself to not be scared or shy," JISUNG said. "Back then I was very kinda concerned of what people would think and I was very shy but I don't think there's a need for that so that is what I would tell my past self."
NCT DREAM is a group known for its youthful sound, a concept the members have perfected over the years. Their musical growth has been made visible even more so after this first worldwide tour.
"Our inspirations and the way we kinda convey our emotions in music itself has grown I'd like to say and so we really like to put our experiences and our emotions into our music as much as we can," MARK said. "We're still growing, and I feel like our fans are growing with us."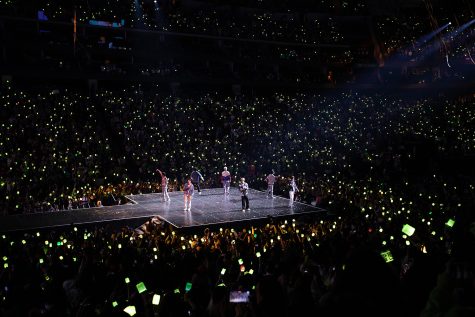 The music NCT DREAM creates is uniquely theirs.
"I have to say that for NCT DREAM, what sets us apart is our history and the story that we've created since our debut," RENJUN said. "Every K-pop group has a different color but for NCT DREAM it's really the hope that we are trying to share and give to the youth, the story that we have and just the fun that we're able to show through our music as well."
NCT DREAM hopes to be a "symbol of healing to listeners and a beacon of hope, especially for people that are young like [them], young dreamers," according to MARK.
"I would have to say that your college years are when you have the most passion and the most strength to pursue your dreams and I would want to say to do everything you want to do so that you live without regrets," RENJUN said, referring to fans who are college students.
"Don't forget that you guys are still so young," MARK said to the student-journalists at the roundtable. "If you guys go on the road and go 'this isn't for me' you still have time to do something else."
NCT DREAM concluded the U.S. leg of its tour at the Climate Pledge Arena in Seattle on April 21, but hopes to be back soon. The tour will soon come to an end as the group makes their way to Asia for their Manila, Singapore, Macau and Kuala Lumpur shows.