Baruch community shops from women-owned businesses at Field Center event
The Lawrence N. Field Center for Entrepreneurship welcomed members of the Baruch College community to shop locally from women-owned businesses at its latest "marketplace" event on March 28.
The Field Center partnered with Baruch's Women's History Month Committee to produce an event to celebrate the contributions made by women to culture and society. After two months of planning, the center launched applications for female business owners affiliated with the college to sell their products and services in the "Women Entrepreneurs Marketplace."
This event was facilitated about three months after the Field Center held its inaugural Baruch Marketplace in December 2022.
"The success of the marketplace that was run by the Field Center in December was really the inspiration for today's event, where we could highlight women entrepreneurship from the women entrepreneurs from the Baruch community," Field Center Executive Director Marlene Leekang told The Ticker.
Nine of the businesses are run by students. These included: skincare company Honey Gloe, owned by freshman Luzmary Aybar; the jewelry business Gisona Pieces, run by sophomore Anosia Gyasi; and the clothing brand Homme D'Affaire, represented by Zena Ally of the Baruch's College Entrepreneurs Organization chapter.
Paola Zevallos, a freshman and entrepreneurship major, joined this semester's marketplace to sell desserts, such as decorated cakes and triple layer bars. She founded the catering business Paola's Eats because she has "a joy for cooking for others." People may find her creations on her Instagram page, @paolaseats.
"I cook global cuisine," the aspiring restaurant owner told The Ticker. "I love fusing different cuisines together, and that leads me to make various fun dishes."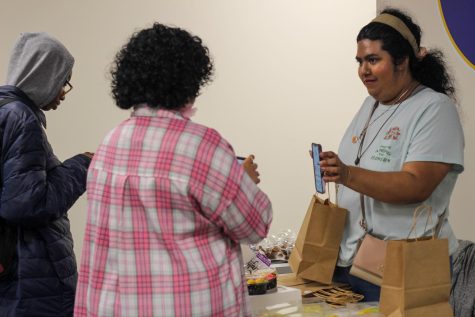 Whitley Boyd participated in the event through her business, MLife Fresh. Created in honor of her late friend, Marlon Small, the graduate student's venture offers freshly pressed juices and ginger shots with the "intention to increase wellness and shift the perception of some of nature's best offerings."
After participating in the fall 2022 semester's winter marketplace, freshman Naomi James returned to the Field Center to sell homemade baked sweets. The entrepreneurship major founded Sweet[ish] by Nae in 2020 "to take [her] love for baking to the next level."
"I am determined to exceed every customer's expectations to be able to grow my business to its fullest potential," James said, adding that she hopes to open a bakery or restaurant in Brooklyn in the future.
Tiffany Wu sold clothes, stickers, plush toys and "a lot of ducks" from her brand, Duckingnice. The Baruch senior also participated in the winter marketplace.
Wu's duck-inspired art is also displayed in the center after she and her partner Calvin Zhang won its inaugural mural art competition during the spring 2022 semester. She recently finished in second place at the center-hosted qualifying competition for the Hult Prize.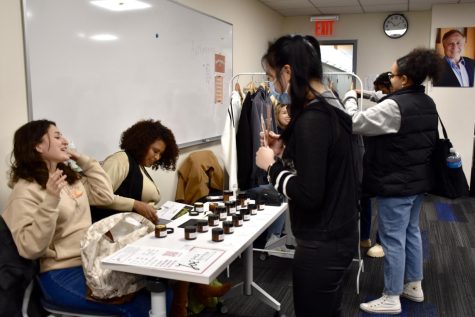 Three of the businesses are run by faculty members, such as Karima Gil-Stone, who works as the administrative events coordinator at the Starr Career Development Center.
After participating in the winter marketplace, she returned to the Field Center with her business, Joi Shea Butter. She started making body butter with organic ingredients in 2015 for her daughter, who has eczema.
"I'm a huge advocate for sustainability," Gil-Stone added. "I encourage my customers to keep their jars and return them to me when it's empty so that it can be reused and a 15% [discount] will be applied to their next order."
Selling notebooks, shirts and tote bags at its table, Ardi Tutors was the only alumna-run business at the marketplace. The business offers online tutoring services, private teaching and homework help for subjects such as accounting, statistcs and Python programming language.
Rosario Campoverde earned her master's degree from the Zicklin School of Business in 2020 — a photo of her from the Field Center's 2019 open house is still displayed on its wall. She launched the business in her last year of college, when the COVID-19 pandemic began.
For her capstone project, the alumna consulted and conducted research for a tutoring company. She was later contacted to become a tutor and was inspired to launch her own company. She added that she wants to hire older students from Baruch to work with her.
"I start with my community," Campoverde said. "I want my Baruch people to become tutors because I believe in giving opportunities to underrepresented communities and diverse communities."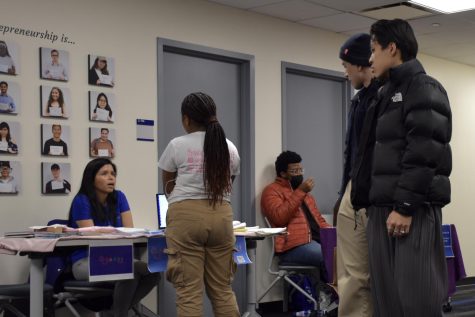 Leekang said the center intends to continue holding its winter holiday-oriented marketplace, but whether it will hold another that is women-run and business-focused depends on how the committee for Women's History Month will organize next year's festivities.
She also said that she is proud of the entrepreneurs who participated in this event, especially as they continue to thrive through the Field Center's "ecosystem."
"They've done other things because they've participated in the Baruch Marketplace, they're an SBDC [Small Business Development Center] client, they've worked with MakerHub or they've been part of PitchPrep," Leekang added. "It's really nice to see this full cycle of services and programming benefiting our students."