Baruch alumnus serves as City College office's first 'executive in residence'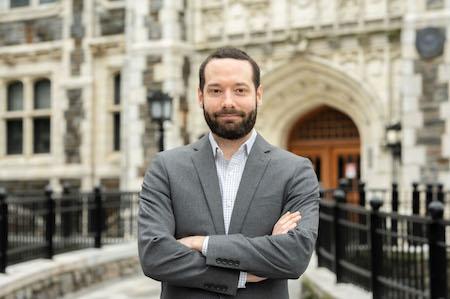 Baruch College alumnus Gabriel Foreman was recently appointed as the first "executive in residence" at City College's Office of Institutional Advancement, Communications and External Relations.
Foreman's role as the executive in residence will involve working on projects with Rise Light & Power, the Advanced Robotics for Manufacturing Institute, the Charles B. Rangel Infrastructure Workforce Initiative and CUNY's Accelerate, Complete and Engage program.
Foreman will build sustained pathways to City College for high school students. He will also help with recruitment, talent development curriculum, industry placement and grant initiatives.
"I am thrilled to welcome Gabriel to our team and look forward to developing programs that are responsive to our community's needs," Dee Dee Mozeleski — who is the vice president of City College's Office of Institutional Advancement, Communications and External Relations — said in a press release.
Foreman is also the co-founder of technology companies Duro UAS and Duro Workforce and will be working on business-related initiatives and programs for the college. "Duro" means "tough" in Spanish and Italian, and "UAS" stands for "unmanned autonomous systems."
Foreman co-founded Duro UAS while pursuing his Master of Business Administration at Baruch, where he graduated in 2016. He credited the Larry Zicklin School of Business' graduate program for teaching him about social entrepreneurship.
"Learning the framework and language of business helped us to structure ourselves as a 'social entrepreneurship' company," Foreman said in a profile conducted in 2021. "I learned that concept from Zicklin."
The company designs cost-effective and self-governing technology for environmental monitoring, collaborating with scientists located in distant regions like Nigeria.
Foreman brought a wealth of business experience to City College, having co-founded Duro UAS and Duro Workforce. Foreman intends to leverage his experience in the business world as well as his work at Duro UAS and Duro Workforce to enhance programs for City College students.
"For CCNY students, the industry networks we are starting to integrate are the most significant enhancement," Foreman told The Ticker in an email.
Foreman's experience in the business world includes leading several major initiatives, such as the co-planning and population of the ARM Institute's career portal.
He also leads the "Fundamentals of Fabrication" program, which provides middle and high school students with hands-on computer-aided design and proto-entrepreneurship experience, and Autonomous Monitoring Program, an environmental monitoring and data science program developed in partnership with City College's Initiative to Promote Academic Success in STEM.
Foreman is an accomplished public speaker and a guest lecturer at several universities, including Barnard College, Parsons School of Design and City College's Colin Powell School for Civic and Global Leadership.
The Baruch alumnus' passion for youth outreach and the environment has been a recurring theme throughout his career with one of his first jobs being at the Children's Garden at the San Francisco Botanical Garden. There he worked before earning a Bachelor of Science in Political Science from SUNY Purchase College.
 "I can't think of what would be more interesting or rewarding, and I feel very fortunate to get to work on these macro challenges every day," he said.
Foreman advises students and young professionals interested in pursuing a career in technology or entrepreneurship to build a network with like-minded people.
"While you're young and might not have a lot of these connections yet, create them by being active and useful," he told The Ticker. "This means gaining skills in something you enjoy and getting out there."
He also advised students to get out there in order to pursue their goals.
"Each day is an opportunity to progress towards your goals," Foreman told The Ticker. "As a wise person once said, 'Instead of trying to build a brick wall, lay a brick every day. Eventually, you'll look up and you'll have a brick wall.'"