Zicklin professor receives award for co-authored paper on IT monitoring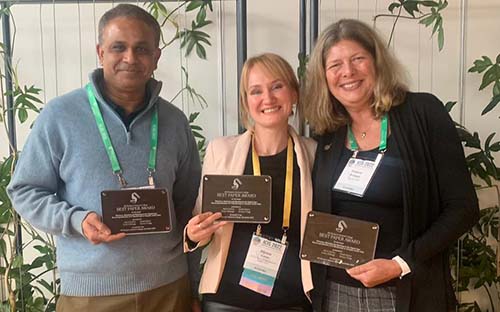 A research paper that was co-written by Nanda Kumar, a professor from Baruch College's Larry Zicklin School of Business, received the 2022 Best Paper Award from the Association for Information Systems Women's Network College.
Titled "Watchers, Watched, and Watching in the Digital Age: Reconceptualization of Information Technology Monitoring as Complex Action Nets," the paper was written by Kumar, France Bélanger from Virginia Tech, Stewart Clegg from University of Stavanger in Norway and Aljona Zorina from University of Leeds in the United Kingdom. The authors accepted the award at the International Conference on Information Systems on Dec. 13, 2022.
"It's always an honor," Kumar told The Ticker. "I was very lucky to have received it, and it was a nice recognition of the work done by not just me but my co-authors as well."
Published in the academic journal "Organization Science," the paper addressed the ethical implications that knowledge gaps in rapidly accelerating information technology monitoring have for the corporate world. The decade-long study yielded a conceptual framework that more accurately portrays the nature of information technology monitoring, as well as the potential for new relationships between the "watcher" and the "watched."
Kumar is a professor and the chair of the Paul H. Chook Department of Information Systems and Statistics. He is also the academic director of Zicklin School's master's degree program in business analytics.
IT monitoring has been seen as an administrative, often penal and security-oriented practice among corporations. But the complex reality of the activity has since outpaced this common perception.
"Different potentialities of veillance can come together with different arrangements at any point in time," the professor added. "This was not possible in the past. It was always surveillance, from the top down."
Kumar said that due to the complex properties of what the paper described as "relational objects" — namely the "flexibility of veillance elements" and "diffused actor roles" — IT monitoring represents a range of new possibilities that will vary by their implementation. 
This range of possibilities was exhibited during the COVID-19 pandemic. According to the study, Norway was one country that decided against gathering users' location and proximity data for contact tracing. On the other hand, countries like Taiwan and South Korea relied on individual smartphones and peer reporting for centralized collection of data.
"[The pandemic] might have helped accelerate some of the changes we've seen, but the technological tools have always been there," Kumar said. "The democratization of all these tools has changed who can be involved — in the sense that it used to be organizations and states surveilling people — but now individuals with phones can surveil back."
Kumar also stressed the importance of power relationships, like those between an employer and an employee, that ultimately govern every case
"Social media can be used for protest movements, like in Iran for example," he said. "But in the end, what happened was that governments ended up using social media tools to actually figure out who those people are. So, the possibilities exist, but they can always be subverted by the power relationships."