Baruch emphasizes itself as 'climate hub' in inaugural climate conference
Baruch College invited students, faculty and industry experts to facilitate conversations about climate change discourse at its inaugural "Conference on Climate Research, Teaching, and Collaboration" on March 10.
People affiliated with all three of Baruch's schools were welcomed to listen to and ask questions during the conference's five panels, held in the Newman Conference Center.
Professionals from Baruch's faculty and the private sector had a chance to speak about the climate-focused education that students receive on campus, topics in environmental, social and corporate governance — or "ESG" — and the adherence of corporations to meeting sustainable goals.
The conference was presented as an explicit and concerted effort by Baruch to bolster itself as a leading center for climate research, both within the CUNY system as well as throughout the world. Speakers talked about recent developments with anticipatory resolve.
Psychology professor Mindy Engle-Friedman kicked off the conference promptly by delivering her welcoming remarks to a packed room of students, administration and faculty.
"What we're talking about is Baruch as a climate change hub," Engle-Friedman said, echoing the theme of the inaugural conference.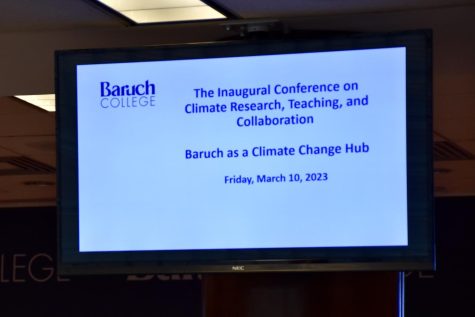 She discussed the Baruch Climate Action Collaborative and referenced the United Nations Development Programme's "People's Climate Vote" event, which was hosted at Baruch in October 2022.
Lin Peng, who is the Krell Chair Professor in Finance, honed in on the sentiment.
"We'd like to use this inaugural conference as a platform to foster dialogues between Baruch, our other climate faculties in other CUNY schools as well as policymakers and private sector leaders," Peng added. "We want to use this conference as a canvas for many more future collaborations."
The first two panels each hosted a mix of five professors and a moderator from the Weissman School of Arts and Sciences, the Larry Zicklin School of Business and the Marxe School of Public and International Affairs. Each professor summed up their department's work in terms of climate education and research.
The focus of the panels was "Research and Teaching: Climate and Sustainability," in which the professors covered topics such as local waterways, food production, environmental justice, climate change's effect on real estate markets and the presence of oysters in New York City.
A third panel hosted the deans from Baruch's three schools to discuss interdisciplinary collaboration. They were followed by a panel about "Climate Change, Disclosure, and Firm Outcomes," which was facilitated exclusively by faculty from the Zicklin School.
Titled "Collaborating for a Sustainable Future: Perspectives from the Public and Private Sectors," the final panel invited city officials and corporate partners. It included John Adler, the chief ESG officer at the Officer of the New York City Comptroller; Sonay Aykan, the associate director of ESG and sustainability at Colgate-Palmolive Co.; Salome Makharaze, a managing director at Goldman Sachs Group Inc.; and Julie Santoro, the ESG reporting lead at KPMG.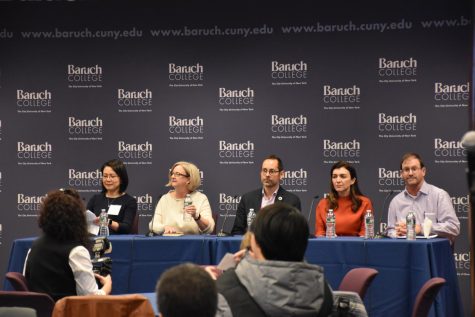 Makharadze said that when it comes to sustainability, corporations look at it through "two broad buckets." She defined one bucket as "climate transition," which includes "everything to help decarbonize the economy." The other bucket is "inclusive growth," which is focused on creating investment opportunities that allow services such as health care and education to become more affordable and accessible.
"We also have companies like Colgate-Palmolive driving these targets and thinking about ways to be creative about climate transition," Makharadze said. "If I think about the world, I see a lot of the demand, push towards these themes."
Notably, two of the panelists graduated from Baruch. Makharadze received a bachelor's degree from the college in 2005. Santoro earned a master's degree from Baruch in 2019, saying that it was "the best thing I did in my life."
Saying that she was "so excited that a conference like this is happening" at Baruch, Makharadze added that the courses she enrolled in and student organizations she participated in "really planted the seed" and set up the "wonderful foundation" for her to do the work she does in sustainability today.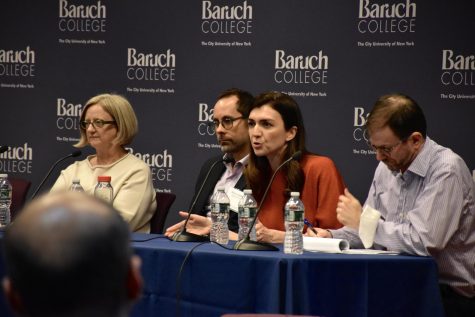 Editor's Note: Salome Makharadze, who is mentioned in this article, is a former writer for The Ticker's now-defunct features section.