USG means more than a title and role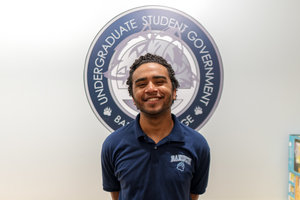 Joshua Castillo
September 16, 2019
For those of you who don't know me, I'm Joshua Castillo, the executive vice president of the Undergraduate Student Government for the 2019-2020 school year. I'm responsible for chairing the Senate during our meetings on Tuesdays and like any other student, I'm still getting acclimated to all of the people we have on campus. We have more students than ever before, and with changing times comes changing perspectives.
When coming into roles of leadership and responsibility, it's very easy to allow things to affect your well-being. In that sense, having a new title can often be more detrimental than beneficial.
It's so easy to get lost in titles — the professional vernacular can become very overwhelming. In my first 10 days of school, I've had dozens of people call me "the man in charge," or even "the MVP VP." Someone even called me "Mr. Gavel." I pulled out a gavel once before a Senate meeting, and a friend of mine asked me, "you actually use that thing?" which I found quite hilarious.
I had a friend who recently messaged me, "you are USG now, there is no USG without U!" and it really made me think about the power and responsibility that comes with this position. To many people, including President Dakshatha Daggala and the rest of the USG table, I embody USG.
I couldn't disagree more. If I had to move out of the country, USG would exist without me. If I had an emergency that required me to step out of my position, there are processes in place that would provide a substitute. If the entire USG table was abducted by aliens and taken to another planet, USG would still exist, so long as the Baruch College system remains intact.
I am not USG. I know that's very easy to take poorly when out of context, but it's the truth.
I am not USG, nor do I wish to become USG — I simply wish to become the best version of myself, just like anyone else. At the end of it all, I'm a representative, a temporary part of USG, in the same way that our current student population is a temporary part of Baruch. The dynamic is ever changing, and as students, our only true responsibilities are to embrace changes in ways that impact us positively and to leave things a better than we found them. In that sense, there is no USG without us.
We have a lot of great things awaiting students this year. This job is definitely stressful because of the many moving parts at Baruch, but rest assured. In the midst of congested hallways, broken elevators and sly attempts at recruiting for pyramid schemes, I'm having more fun than ever. See you all at Homecoming on Sept. 19!
Joshua Castillo is the executive vice president of USG. He can be reached at joshua.castillo@usgbaruch.com. His office is located at 3-276 in the Newman Vertical Campus.