Mishkin Gallery and Department of Black and Latino Studies screen 'Black Orpheus'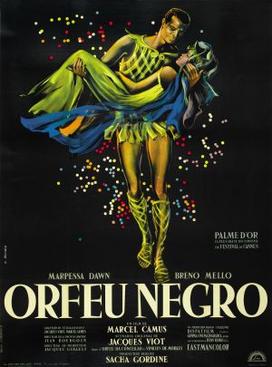 Professor Tshombe Miles hosted a discussion and screening of Marcel Camus' 1959 film "Black Orpheus" at Baruch College's Mishkin Gallery on Feb. 23.
The film screening is part of the Mishkin Gallery's program "Carnival on Film: Procession as Politics," in partnership with the Department of Black and Latino Studies. The program consists of weekly film screenings and discussions centering on Latin American and Caribbean communities' political engagements with Carnival, a multi-day festival celebrated before the Catholic season of Lent.
Prior to the screening, Professor Miles contextualized the film and asserted its importance. He addressed some of its criticisms, including how it is a French production that presents an idealized depiction of Brazilian poverty.
"Though this film is far from revolutionary, it is important because it represents Afro-diasporic culture," Miles said while introducing the film.
"It puts that at the center stage at a time when the international community was not familiar or accustomed to celebrating a form of Afro-derived culture, at least on the film screen."
"Black Orpheus" is based on Brazilian playwright Vinicius de Moraes' 1956 play "Orfeu da Conceição."The film is a modern retelling of the Greek legend of Orpheus and Eurydice set in the slums of 20th century Rio de Janeiro. In this version, Orpheus, or Orfeu, is a guitar player for a samba school and falls in love with Eurydice, who comes to Rio de Janeiro to hide from a man who wants to kill her. It's a colorful film characterized by its energetic characters and soundtrack.
The film is known for its technicolor cinematography, introducing international audiences to the Brazilian bossa nova music genre.  It won the 1960 Academy Award for best foreign language film and the 1959 Palme d'Or at the Cannes Film Festival.
Although the film is celebrated for its all-Black cast, it has been criticized by scholars for depicting Afro-Brazilians as simple-minded and overtly cheerful.
After the film ended, the audience applauded. Most Baruch students enjoyed "Black Orpheus," but were weary of its dated depictions of Afro-Brazilians.
"I think it was a beautiful love story and I enjoyed it," Joseph Hernandez, an operations management major, said. "There were a lot of relics that remind us of where the sentiment was in terms of racism and overall stereotyping."
"You can enjoy the beauty of a film while still recognizing that certain misrepresentations are present, but I don't think that takes away from the fact that it was revolutionary during the time and how it was an all-Black, all BIPOC cast, which is huge, especially for the late '50s," political science major Karina Ordóñez said.
Professor Miles continued the discussion and opened the floor to questions. Baruch students asked about the film's racial stereotypes and depiction of Rio de Janeiro's slums.
"The main question regarding cinema and art, is the ability to have various representations, not just to have one type of representation," said Miles in response to a student's question about how the film's representation of the Black diaspora compares to contemporary art. "I feel like at least nowadays there is opportunity for different types of representations."
Miles is an associate professor of Black and Latino Studies at Baruch College and teaches the Brazilian history of race, class and ethnicity. He has written multiple books and articles on Afro-Brazilian culture and presented at conferences in Brazil. Professor Miles has also written several opinion pieces for the popular Brazilian newspaper "O Povo."
"Black Orpheus" continues to inspire filmmakers and artists decades after its initial release.
"Parasite" director Bong Joon Ho claimed the film made a "big impression" on him after watching it on Korean television as a child. Indie rock band Arcade Fire used footage from the film for the lyric video of the song "Afterlife." The band's 2014 album "Reflektor" was also inspired by the film.
A new Broadway musical adaptation of "Black Orpheus" is currently in production. Previews begin February 2024, and the show is projected to open in March 2024.