Baruch alumnus Seth Besmertnik discusses successes and failures in Weissman forum
Baruch College's Weissman Center for International Business welcomed alumnus Seth Besmertnik in the center's latest installment of its "Mitsui Lunch Time" forum series on Feb. 14.
Titled "Try, Fail, Try Again," the forum gave Besmertnik a space to share how he learned from his failures to build Conductor, a business that is worth $500 million.     
Conductor is an organic marketing platform made to support companies working in search engine optimization, content creation and web-team utilization. Serving as its CEO, Besmertnik said its kind of marketing is "making things that are actually useful, helping to figure out something that your customers are looking for."
As an example, he explained that instead of creating advertisements, hosting pop-up events or making banners for the laundry detergent brand Tide, the business would film a tutorial on how to do laundry for the first time.
Conductor can measure the performance of a business's web platform against competitors and make recommendations to boost visibility to consumers. Its business was so successful that just a week before the forum, it acquired its own competitor, Searchmetrics.
But the company did not reach its current level of success overnight.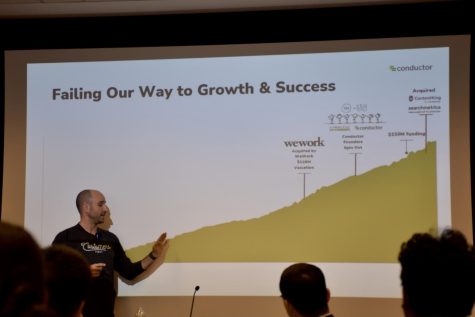 Besmertnik launched the company as LinkExperts, a business that puts links on websites to help companies appear in search engines. He said this was around 2005, before Google reached the widespread usage it has today and during his time as an undergraduate student.
He even mused the audience by saying that he attended his graduation during a lunch break and didn't tell his co-workers because he "didn't want them to think that the CEO of our six-person company was still in college."
Although the business reached $25 billion in annual recurring revenue in 2009, LinkExperts ran its business to solve what would become a short-term problem and competed against a lot of companies doing the same work. Eventually, the business's 30 workers sold their venture to another company, which did not pay them back.
Instead of finding work at other companies, all the employees stayed together to launch Conductor with the same business structure and investor connections. Around 2009, they co-founded the company with the idea of helping their customers increase their visibility online. But one day, two of the company's investors told the CEO they needed to sell their share of the company immediately because they "didn't think that [Besmertnik] was qualified to run the company anymore." 
Although Besmertnik said it felt like "the strongest person in the world just punched" him, the words motivated him to work hard to the point where one of the investors came back to him a year later, telling him he was "one of the best CEOs" in his portfolio.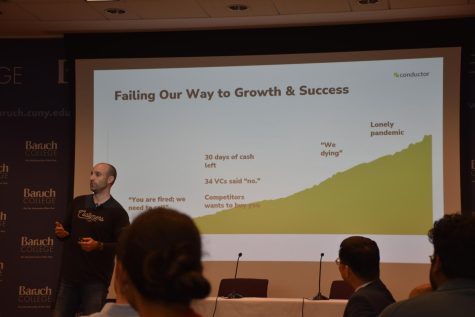 The company entered another crisis when it focused on growing its clientele rather than listening to customer feedback. Instead of improving the value of their product, Conductor gave "side solutions" that didn't address the real problem and was ultimately left with one investor and only two weeks left of payroll in the bank.
Conductor ended up getting sold in March 2018 for $135 million to WeWork, which was co-founded by fellow Baruch alumnus Adam Neumann. Then in September 2019, the Conductor staff learned from an article by The Wall Street Journal that WeWork was selling the company. But Besmertnik said that "the end of the story is a nice one" because his fellow co-founders repurchased the company.
Despite the COVID-19 pandemic hurting the company's ability to work and generate revenue, Besmertnik said he wanted to keep his team and customers confident.
"Through nothing short of a miracle, a lot of hard work and effort, we climbed our way out of this thing and basically survived," Besmertnik said.
Then in 2022, the team bought its first company, ContentKing, which is a Dutch and Czech firm that does real-time site auditing and error detecting. In addition to the acquisition of ContentKing, Conductor reached its biggest financing in the industry and raised about $150 million in December 2021.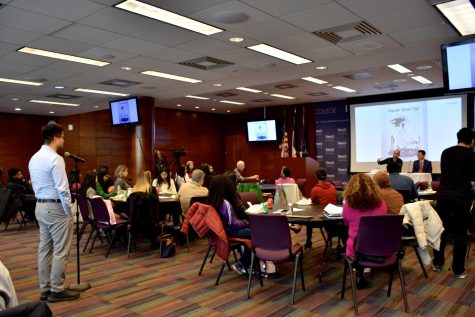 "It's remarkably painful how — in terms of what you experienced, as you go through these places — the number of times we thought there wouldn't be another tomorrow, the number of times we got to the end of the road," Besmertnik said.
He got to another level and power through them by using his challenges and failures as an opportunity, adding that others should view these as "gifts." His advice to the audience was to focus on learning and personal growth instead of revenue. 
Besmertnik also said he believes that everything in life is like planting seeds and that it takes patience to see growth. In fact, he said he is currently hiring Baruch students to join the company, so they have a place to grow.
"When you plant a seed, what happens on the first day? Nothing, you don't see anything. But seeds grow, right? Sometimes they grow in weeks, sometimes they grow months," Besmertnik said. "The seeds of life can grow for years, and the actions that you take will manifest over time."