Zicklin Center event facilitates discussion about ESG investing
The Robert Zicklin Center for Corporate Integrity welcomed members of the Baruch College community to discuss the practical and moral shortcomings of investing based on environmental, social and corporate governance criteria — also called ESG investing — in a Feb. 7 event.
The event, titled "The Difficult Truth about ESG Investing," hosted finance professor Aswath Damodaran. He works as a faculty member at New York University's Stern School of Business. David Rosenberg — who works as the academic director of the center and a law professor at Baruch — facilitated the conversation with Damodaran.
ESG is a set of factors used to evaluate the sustainability and social impact of a company or investment. The term is often used by investors to assess a company's long-term potential and risk management.  
Damodaran spoke about current companies and how ESG investing is broadcasted as a valuable operation. While people may say ESG investing could earn higher returns for stakeholders, Damodaran said it is all a lie.
"It is a scam, a gigantic scam in business history," Damodaran said. "A lot of people are making money off of it, but none of them happen to be people that ESG is supposed to be helping."
As ESG ratings rise in popularity, companies are releasing more data than needed. Using  ExxonMobil Corp. as an example, Damodaran said that oil companies disclose their carbon footprint, yet social media platforms such as Facebook are not required to disclose its privacy and data sharing.
"What we have now is disclosure diarrhea," Damodaran said.     
He noted that by providing more information than needed, companies are able to build an image that falsely makes them appear as a "better" company.
"You're going to get 200 pages of disclosure," Damodaran said. "I think we risk doing more damage to society because we're allowing companies to do this and, unfortunately, sounding good has become much more critical than doing good."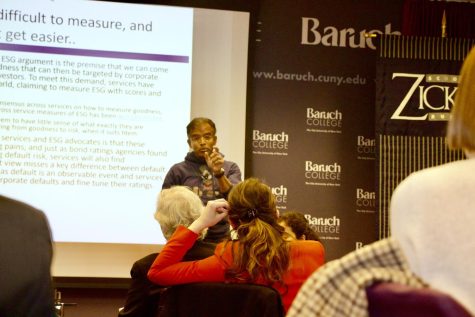 Damodaran said that companies should be open and clear when it comes to government disclosure about what risks their businesses pose. He questioned if there would be risk in cash flow, earnings and reputation, but capped the comment by saying that these companies need to be held accountable "because they claim that it measures that kind of risk."
He also discussed value scores, saying that they tell nothing about a business's exposure to the environment. Additionally, as each company grows, its ESG score goes up, which Damodaran said "makes no sense."          
"Now how does a company like this get to the value it's at?" he said. "You could argue that not telling companies being good is automatically good for value. It might make you feel good, but the reality is the truth is not just a lot greater. It could be pushing in the opposite direction."
When asked by a student if ESG investing leads to financial payoff, Damodaran pointed to the "overpriced outerwear" brand Patagonia, which is known for its sustainability-driven initiatives.
"Anybody want to guess how much revenue Patagonia had last year? About $800 million," Damodaran said. "So can it afford to play the goodness game? You're playing to the niche community, right?"
Speaking about a paper published by a sustainability research group at NYU, he said that it "basically showed that higher-ESG-score companies have higher margins," but the paper is also "a regression of margins against ESG scores."
He implored the audience to compare changes in companies' ESG scores in a year and the changes in profitability over subsequent years. While it might be assumed that higher ESG scores lead to increased profits, Damodaran said he ran the regressions himself and found "that correlation is negative to zero."
"I'm glad as wants to spend more on [ESG constraints], but spending more can't lead to higher cash flow," he said, adding that "over the last decade, society has increasingly pushed away from fossil fueled companies as investors. We've got endowment funds. When you have fewer people investing in fossil fuel stocks, effectively, a higher cost is returned, which is effectively a higher cost."
In response to Morningstar Sustainalytics findings that show higher ESG scores leading to lower costs of capital, Damodaran said "stop making up crap, because that is crap."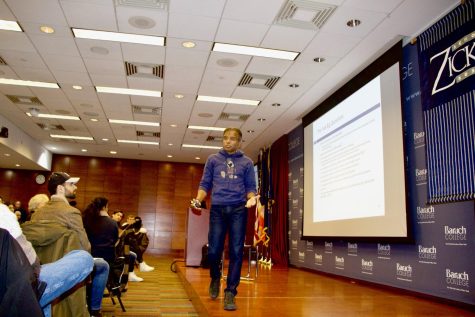 Damodaran added that companies in the technology sector tended to focus on ESG, hence creating a system that is "skewed in favor of businesses within tangible assets."
"I think the most important takeaway is to be skeptical of what is substantive in the financial industry," Rosenberg said. "I think that Mr. Damodaran gave his sense of where ESG is nearly hype and perhaps didn't satisfy the audience with a sense of the substance behind a lot of the ESG programs on Wall Street and the serious good that it might do."
To close the conversation, Damodaran shared advice for future investors in the audience.
"Don't fall for buzz words or pay for weapons of mass distraction," Damodaran said. "Pay for something fundamental. Buzzwords are easy to create. Acronyms are even easier, but ultimately, it's what you do and how you deliver that affects value."