Baruch alumna-run 'The Past Perfect' holds on-campus clothing swap events
The Past Perfect, an online clothing exchange platform, welcomed CUNY students to swap unwanted and used clothes at two in-person events at the Baruch College campus in February.
Students brought their unwanted clothes to the Lawrence N. Field Center for Entrepreneurship on Feb. 8 and traded with their fellow peers. Greeted by Sophia Liao — the Baruch alumna who founded The Past Perfect — those who came to the center and participated in the clothing exchange said they loved the environmentally friendly aspect of the startup's event.
"I actually did a project for sustainability in the fashion industry because it's a very big issue," junior Lamya Serhir said. "I also like thrifting and finding things that you wouldn't otherwise find, for example, at a mainstream store, so I think it's fun. You get to see things that you wouldn't otherwise see."
While swapping clothes, students made friends and learned more about the startup from Liao.
"We just wrapped up the new year; we probably have a ton of stuff we want to clear out from our homes," Liao said. "The semester started, so we're back in the swing of things. We want a fresh start."
After earning a bachelor's degree in finance in 2021, Liao left her brand marketing job during the same year to launch The Past Perfect, an online platform in which people can find and exchange unwanted clothing with other users.  
Liao said the idea stemmed from a conversation she had with friends who had "bad shopping habits" and didn't have enough closet space. They organized an informal meeting in Central Park to swap clothes.
"It was a really sustainable way to refresh our closet and not spend a ton of money because these items are free, and we met a ton of great people along the way," Liao said, adding, "I figured this is a practice that should be more widely implemented. How come more people don't do this? Or is there some way to make it more accessible to broader audiences so that it can become a common practice."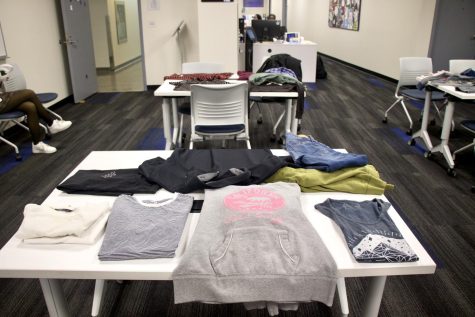 The business currently operates under a subscription model, meaning that users can subscribe for $9.99 per month for access to other users who are open to swapping their clothes. However, Liao said there is a free trial in the beginning, so there's "really no commitment" and users can see if they "like the styles offered."
Using the platform's geographically centric interface, one may search for other users who are nearby. When deciding on how the platform would work, Liao said that her time as a student at Baruch inspired her.
"Not only are you able to meet up in person for a slot, but you get to make, like, a meaningful exchange with somebody you've maybe never met before," Liao said, adding that the Baruch community is "dispersed as a commuter school, so this is one way to just like bring people together with a very specific interest."
The Past Perfect collaborated with Lexicon, Baruch's yearbook club, for its first in-person clothing swap event in the Newman Vertical Campus' multipurpose room on Dec. 13, 2022.
Liao said that by attending swap events on campus, students who "have an event or an interview coming up," can "look for specific items to your needs instead of shopping for things that are trendy or look good on some model."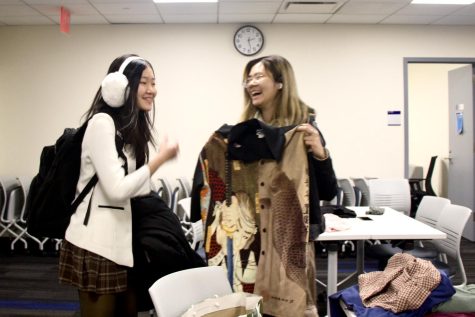 When it held its second event on Feb. 8, The Past Perfect became the inaugural venture to participate in the Field Center's pop-up program, which enables student entrepreneurs to hold events and promote their small business. 
A third clothing swap event was held in collaboration with fashion Instagram account @CUNYOutfits in the multipurpose room on Feb. 16.
Baruch freshman Yoon Ei San said she attended the Feb. 8 event after hearing about it through a friend. Although she didn't bring any clothes to swap, she said she would bring clothes to the third event.
"I like that we are keeping it sustainable and swapping the clothes so that everybody will be happy with the clothes that they have," San said.
People who want more information about The Past Perfect's upcoming events and support its environmentally-friendly goals may check out its Instagram page, @the.past.perfect.